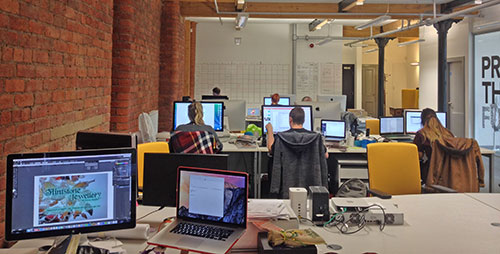 Our design team are kept constantly busy with Branded Pop Up Gazebo and Branded Market Stall projects as well as print design work for other types of Bespoke Trade Stands that are manufactured alongside our Market Stalls at our factory in Derbyshire. In this article we'll be looking more closely at some of these projects which include Printed Market Stalls for Street Food Vendors at Brick Lane Up Market as well as a number of other recently completed Branded Pop Up Gazebo and Market Stall jobs, plus an interesting Bespoke Shopping Centre Trade Stand project we've been working on for The Amazing Chocolate Workshop Co.
Branded Market Stalls
All areas of our market stall canopies, side walls and counter skirts can be printed with your own text or graphics; whether it's a basic logo or an all encompassing full colour digital print, we have solutions to cater for all budgets.

One solution completed recently for CUPBAB, a Street Food Vendor at Brick Lane Up Market (pictured above) involved producing a roof canopy with detachable front banner, printed rear banner and printed front counter skirt to fit the market stalls supplied by Brick Lane Up Market operator Truman Brewery. We supplied the original stall frameworks to Truman Brewery so had exact dimensions to hand and the customer came to us with a clear idea of what they required which helped ensure the job ran smoothly. This level of branding costs in the region of £330 + VAT as of November 2015. If you're a street food vendor at Brick Lane Up Market and are interested in a Branded Market Stall like this then get in touch; our design team can assist with all aspects of the print design process and a digital print template can be provided by email if you'd like to compile your own design.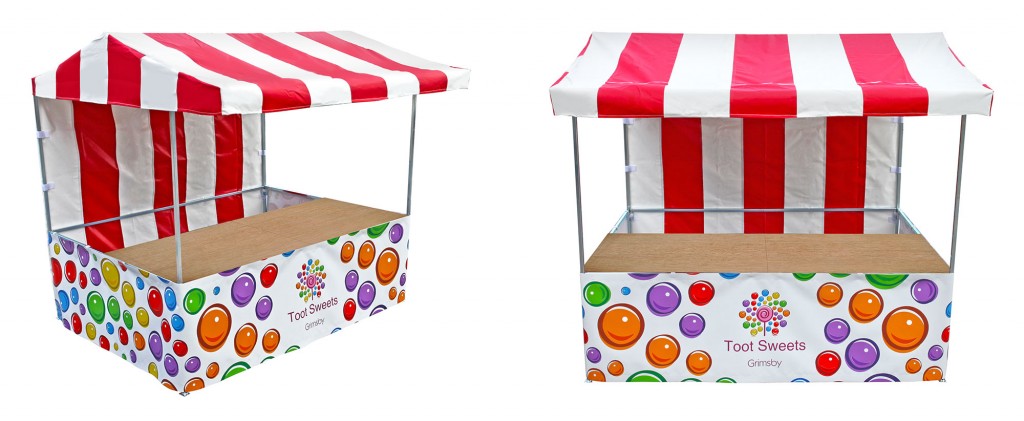 Our customers range from small independent traders — see images above of a recent printed market stall we completed for Toot Sweets of Grimsby — through to national brands like Bella Italia restaurants (pictured below) to whom we regularly supply Branded Market Stalls for promotional use. In the case of Toot Sweets (and Owow Chocolate Crackling, also pictured below) we were tasked with producing much of the print design work ourselves having been briefed by the customer and provided with a logo. In other cases, such as Bella Italia and Flintstone Jewellery (pictured further down this page) the customer may have clear design ideas in mind for their Printed Market Stall or Gazebo and will prepare the design themselves using our supplied print templates. We then step in to make the final preparations prior to beginning the print process. However you choose to work with us we do not charge extra for artwork design; it's all part of the service.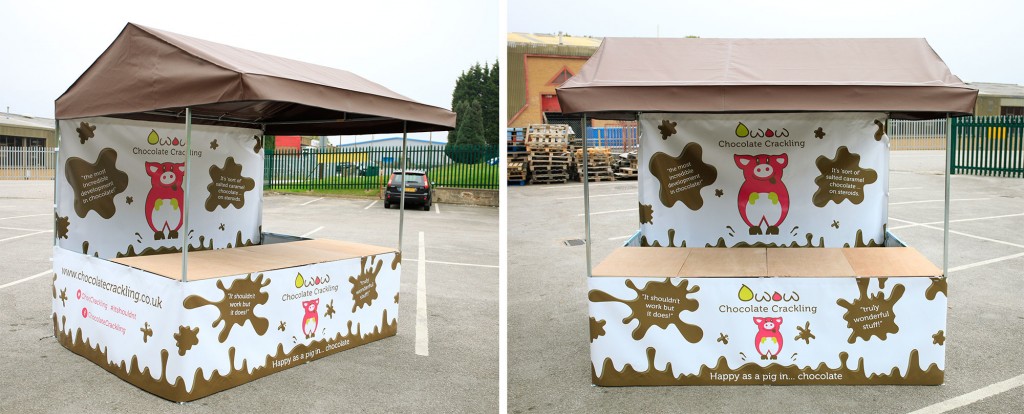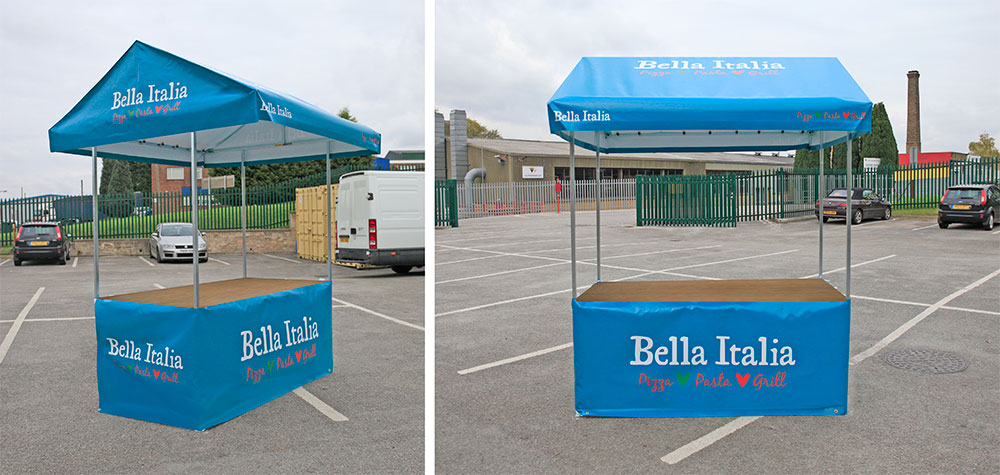 Branded Pop Up Gazebos
Pictured below is a recently completed branded pop up gazebo for Flintstone Jewellery. The gazebo is one of our S40 3m x 3m models and features full digital print on the roof and sidewalls. All our gazebos are supplied with framework, roof canopy, sidewalls (optional), wheeled carry bag and tie down kit (ropes and pegs). This gazebo was also supplied with steel jigsaw gazebo leg weights which are a popular accessory for weighing down pop up gazebos on hard standing ground where ropes and pegs cannot be used. Read more about our pop up gazebos. Want one like this? Get in touch today for full details.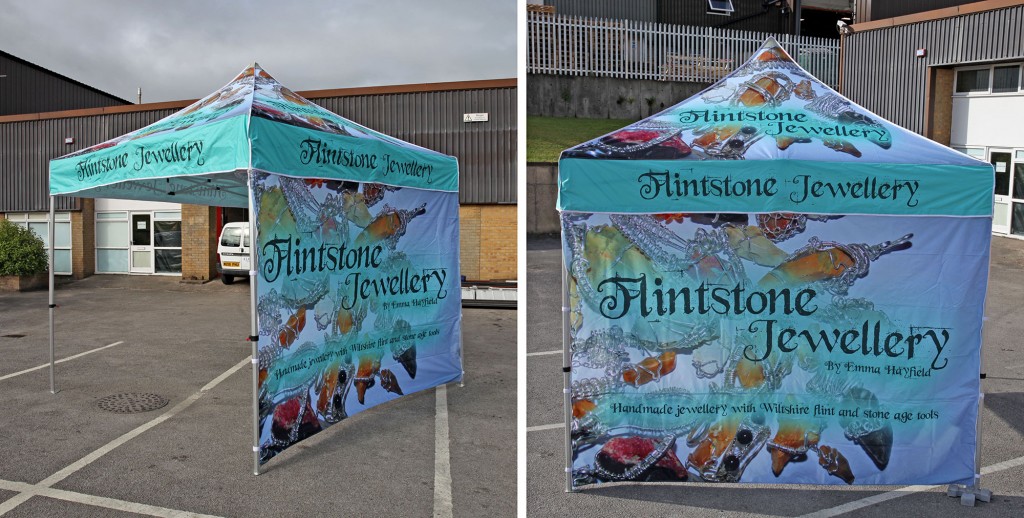 Bespoke Shopping Centre Trade Stands with Branding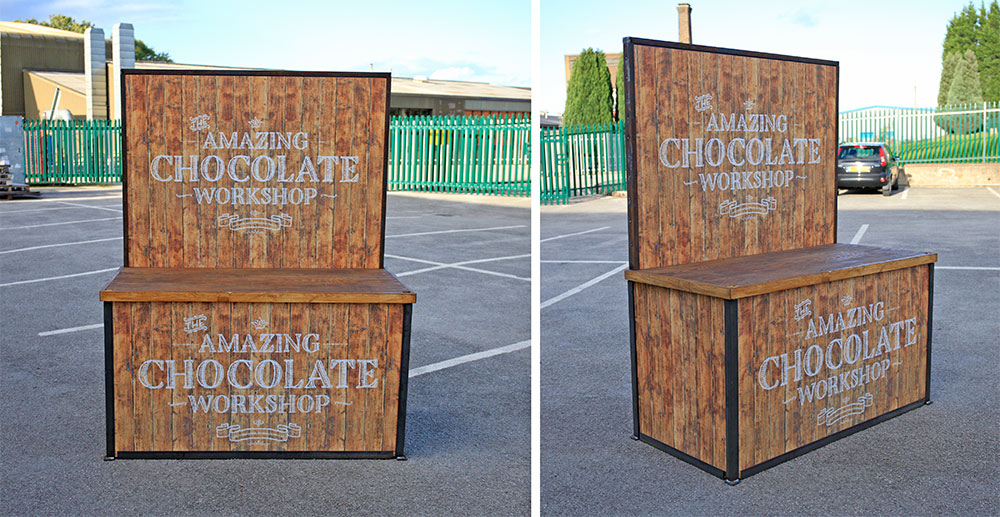 Aside from Branded Pop Up Gazebos and Market Stalls we also tackle many bespoke trade stand projects such as the one shown above for the Chocolate Workshop who are setting up trade stands in Shopping Centres all over the UK in the run up to Christmas to cash in on the gift buying season. This kind of bespoke trade stand work typically requires a design consultation and the production of several prototypes to perfect the design prior to commencing full production. Our engineers and fabricators in Derbyshire work in partnership with the customer and our visualising and graphic design team based in Manchester to ensure that the finished structure and its associated branding meet with expectations; this is particularly relevant in the case of shopping centres where a great deal of emphasis is placed upon the aesthetics of trade stands.
Like what you see? Why not get in touch today for full details.