Ten years ago one of our Market Trader customers Dan Cluderay was selling discounted food lines via his market stall in Hull. In 2008 he created an online store for his business, Approved Foods Ltd. After rapid expansion and despite rejection from Dragon's Den in 2014, he's now a multi millionaire.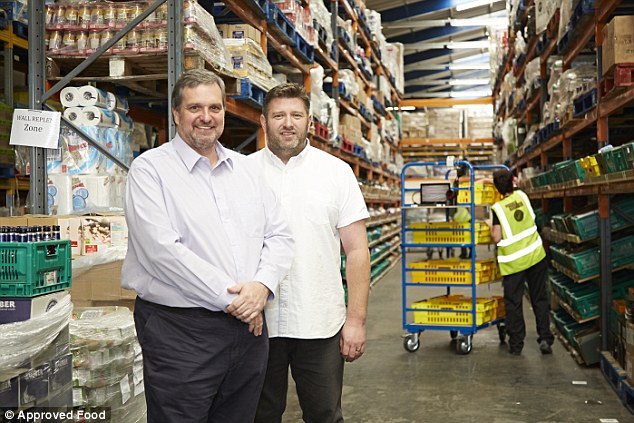 "Dan, along with wife Nicky and her mum and dad, was one of our regular customers on Craven Park and Cross Green Markets in Hull and Leeds" says Gavin Kenning, managing director of TraderSupplies.co.uk and parent company Gavin Kenning Engineering Ltd who supply market stalls and market equipment to market trader customers at markets throughout the UK.
"He was selling short dated food lines on his market stall — the kind of thing that supermarkets won't stock because they're beyond their 'best before' date" Gavin continues. What many people don't realise is that this 'best before' date is simply an indication of when food is at its optimum quality. Food that has passed this date is still perfectly good to eat. By contrast, the 'use by' date is the important date by which food should be consumed.
Back in 2008, upon taking delivery of some nettle tea which Dan felt his usual market stall customers wouldn't buy, he turned his sights to the internet in an effort to find customers for the product. This is when he had the idea for his online store and, with knowledge acquired through a previous career in IT, he built approvedfood.co.uk. "Things took off pretty quickly and he became a less regular face on the market as his time was taken up fulfilling orders from his website" Gavin explains. Nevertheless, Dan remained a customer as his business grew; "We went from supplying Dan with market stall parts, bags and packaging supplies to racking for his new warehouse and then picking trolleys for his warehouse staff" smiles Gavin.
Dan's business continued to grow rapidly and in 2014 he was featured on hit BBC2 show Dragon's Den as he sought £150,000 of investment in exchange for 10 percent of his business. Unfortunately he failed to capture the imagination of the Dragons and his offer was unanimously rejected. Despite this Dan and his business partner Andy Needham managed to secure £400,000 in capital through private loans and investment which they have used to grow their company to a turnover of £4 million.
Dan is a prime example of the resourcefulness and ingenuity of market traders and joins a club of famous names, Sir Alan Sugar and Jack Cohen (founder of Tesco) included, whose market trader beginnings ultimately lead to them becoming very successful businessmen. Dan's story also helps to re-enforce recommendations made by Mary Portas in her role as advisor to the Conservative government on the future of Britain's high streets in which she highlighted the importance of market traders and markets and the key role they play in helping to revitalise town centres whilst acting as a breeding ground for future generations of businesspeople.
Dan and his company featured in the first episode of ITV series Bargain Fever Britain which was screened on ITV1 at 8pm on Tuesday 4rd March, 2015. Click here to watch the programme on ITV player.