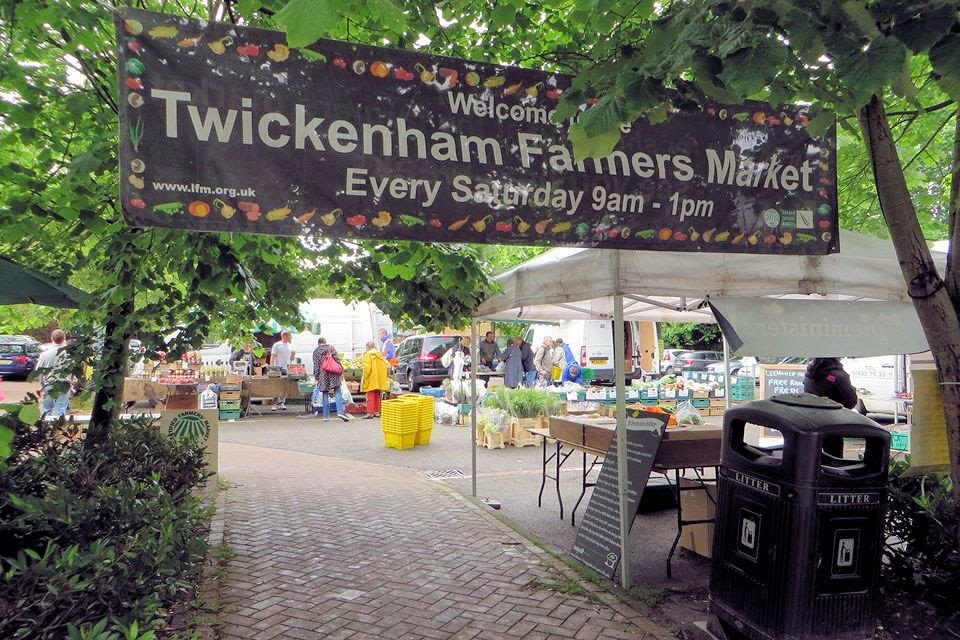 On a crisp and sunny January morning we made our way to Holly Road Car Park at the back of Marks & Spencers Food Court in the heart of Twickenham's bustling town centre where lies its weekly farmers' market and one of the longest establish markets of its kind in London. Being situated behind the high street makes this perhaps not most visible or obvious of locations for a market and, despite decent signage, it could be argued that it suffers a little from low footfall as pedestrians need to make quite a diversion in order to access it. Even with local knowledge on our side we ended up cutting through M&S and out of the back exit before we eventually stumbled across it.
The journey is well rewarded however with a small but lively market consisting of pop up gazebos, tressle tables and more traditional style steel framed market stalls, all serving up a range of local produce including cheeses, breads and pies with lots of free samples on offer to convince discerning shoppers to part with their cash. The market seemed to be lacking fresh fish on the day of our visit although we were told that Gary's Fresh Fish stall is usually present. That said, the market's close proximity to the excellent independent Sandy's Fishmongers on King Street — reputedly the cause of many a queue down Twickenham's high street during the run up to christmas as locals line up for their seasonal seafood platters — would likely be very stiff competition for any competitor hoping to cash in on weekend trade.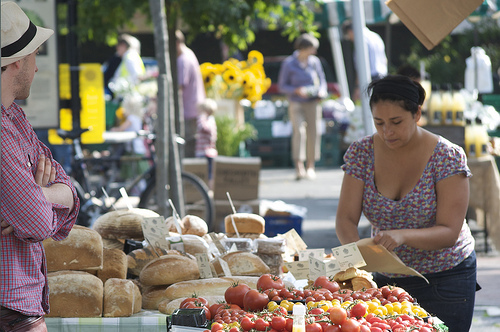 The highlight of our trip was, without doubt, the Cakehole market stall run by Lara Morley. The range of tantalising cupcakes on offer left our mouths watering and their fine baked goods are the likely cause of many a curtailed diet! Check out Cakehole's website for more details. Another notable highlight was the Pieminister market stall. Pieminister are an award winning pie bakery based in Bristol although you may well be familiar with the name as they continue to expand their chain of highstreet pie restaurants throughout the UK (and now Europe, owing to their recent restaurant opening in Amsterdam). They sell an impressive range of pies made from 100% British free range meat and other ingredients supplied by some of Britain's finest artisan producers. We were impressed to see that a growing brand like Pieminister continues to recognise the value of local markets.
If you're a punter passing through Twickenham then this Farmers' Market is highly recommended. Combine your visit with a trip to some of Twickenham's great independent shops such as Sandy's Fishmongers on King Street and Corto Italian Deli on Church Street (to name but a very few) and take in the sights of York Gardens on the banks of the Thames, right opposite Eel Pie Island which is home to Eel Pie Recording Studios where some of Britain's most influential bands have recorded.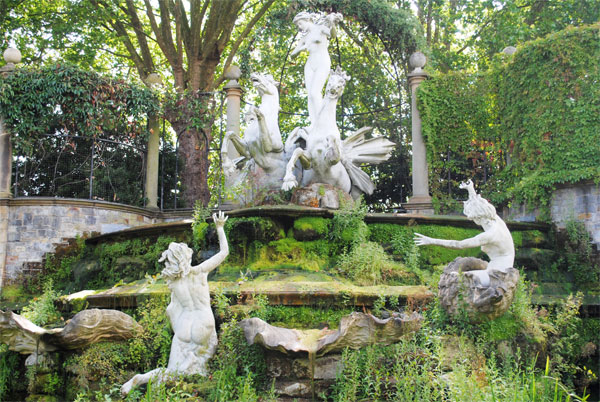 For more information about Twickenham Farmers Market you can visit the Twickenham Farmer's Market Website and check out their Facebook page for regular updates.
For traders interested in attending this market please note that tressle tabels, pop up gazebos, instant shelters and market stalls are not provided by the organisers so must be obtained by the market trader.
View our range of pop up gazebos and market stalls and visit our online store, TraderSupplies.co.uk to buy market stalls and pop up gazebos online.